Wow we did really well attracting somewhere over 60 people to the CMRI gallery, a venue that we rarely use.  The Open Demonstration Event is timed for the new intake of students. This year it coincided with the 90th Anniversary of the first meeting of Toastmasters.
Well done to the winners who were guest Ian (Table-topics), Humour (Andy), and Evaluator (Gustavo)
Joke Master Andy scoops the humour Award
Andy's joke was the tale of three male hitch-hikers stuck trying to cross a wild river. They each prayed and asked for gifts and were granted them. One had the strength to swim across and one had the skills and equipment to row across. The one that asked for intelligence was transformed into a woman with a map and processed to walk across the river using the bridge a little further downstream.
The grammarian Vicky proposed word of the day "Passion".
The Table-topics session was lead by Jim and based on mystery items from his garage that the speakers had to say why they had invented them.  The Pointy bit was Becky's back scratcher. The bendy brush thing was Ian's Saxophone cleaner mark 1. The strappy whip thing was Jin's bundle securing strap. And finally the hoop with rollers was Maria dress making ribbon dispenser. Paul W evaluated the session.
Gustavo introduced our first speaker Minjie who gave a talk entitled "A Brief History of Mastering Toast…ies". This talk was drawn from the Competent Communication Manual – 4 – How to Say It. It was fascinating to discover the power of words and why we are known as Toastmasters not Suschimasters or Noodlemasters.
Minjie launched the club's new promotional video that she has been the videographer and producer of.
http://www.youtube.com/v/gUo1Yc0P1cg
Allison introduced his mentor and our second speaker John who gave a talk entitled "A Brief History of the Mercedes-Benz". It was fun hearing a comical parody of the life and times of the engineer Gottleib Daimler and savvy marketer Karl Benz
Many thanks to those in leadership roles. Becky was the General Evaluator as well as covering her brief as the Vice President of Education. Minjie opened as Sargent at Arms.  Timekeeping was done by Matt the Timekeeper. Sunday counted 'Ahs' and Vicky was Grammarian. Maria lead the night in the hospitality role.  The club President Atma presided over the meeting.
CMRI Gallery with Atma on the floor
Toastmasters 90th Anniversary
The organization grew out of a single club, Smedley Chapter One Club, which would become the first Toastmasters club. It was founded by Ralph C. Smedley on October 22, 1924, at the YMCA in Santa Ana, California, United States. Since 1924, Toastmasters has served over four million people, and today the organization serves over 313,000 members in 126 countries, through its over 14,650 member clubs. Through its thousands of member clubs, Toastmasters International offers a program of communication and leadership projects designed to help people learn the arts of speaking, listening, and thinking.
Scotland was the first district to be organised outside the USA in 1946. By 1958 30 countries outside the US had toastmasters clubs and by 1962 the educational materials had been translated in to English, French and Braille.  Toastmasters was truly multinational and multilingual. In 1977 Edith Burgay was the first blind person to become the World Champion of Public Speaking.
Cranfield Speakers' Clubwas established as Toastmasters club 1682231 in February 2011. Membership is open to anyone and includes a mix of students, staff, and faculty of Cranfield University, as well as many local residents not affiliated with the university.
Like us on Facebook https://www.facebook.com/cranfieldtoastmasters

Our winners are:
Congratulations to Sunday for winning the Humorous speech contest with his talk entitled "Silly moments"
Congratulation to Allison for winning the Table Topics contest
Support these guys at the Area 44 contest round on the 27th September Hurrah!
The contest was a fun night support by seven members and nine visiting Toastmasters and the capable chairmanship of Minje with the support of the chief Judge Jim. Dave M and Louise kept time and Daniel acted as usher and Sergeant at arms. John S was Table-topics master. The competition counters were Delphine and Cecile
Humorous speech contestants (in draw order):
Matt "What I know about Humour"
Atma "How to have an arranged marriage"
Sunday "Silly moments"
Table topic speech contestants (in draw order):
Atma
Sunday
Allison
The topic question set by John focussed on not repeating the first world war and why life is different now and lessons have been learned.
During the judging we were entertained to some table-topics based on a famous character transported to improbable period in time and space.
Like us on Facebook: https://www.facebook.com/cranfieldtoastmasters
Find us on Meetup: http://www.meetup.com/MK-Toastmasters-promoting-excellence-in-public-speaking/
Hey Dan. I was told the TME had to do a meeting write up. Here it is buddy… Thanks [Paul Wright] Cranfield Speakers Meeting. 24.9.2014
It was another great meeting for the Cranfield Speakers. We had our usual regulars that came to support and we also had a few new faces, which was great to see.
Paul Wright was our Toastmaster and he set the theme for the meeting which was "Being United'. This was inspired by Scotland voting to still be part of the UK. Becky Piper, the Grammarian and Ah Counter, jumped on the theme Bandwagon and made the Word Of The Day 'United'. One guest was especially pleased about this as it gave him the opportunity to talk about Manchester United's recent football performances. I say no more.
The Timekeeper for the evening was Matt Lambert. His role was more practical and didn't involve a lot of speaking however, he managed to use the Word Of the Day which was sneaky, brilliant and deserved a pat on the back.
Just before the Topics Master came up Atma the Joke Master delivered his joke but unfortunately forgot the punch line! Atma later that evening explained what went wrong and then hit us with the correct punch line. I don't think that has ever happened in a meeting and I'm sure the guests enjoyed it
Maria was next up being the Topics Master. She gave us all a challenging topic to speak about and it was a well thought out and great concept. A volunteer had to persuade a Movie Director why their chosen job would be great in a given movie.
John was up first being a plumber in a Jurassic Park movie.
Alex blew us away with his knowledge on StarWars.
Atma was a captain in a Harrry Potter film.
And Becky was hanging out flower pots on the Titanic Ship.
Next were the Speakers! 3 Speeches in total.
First up was Alex and he delivered a great speech. He showed class and great presence on the stage.
Second up was Sunday. Great volume and a fascinating subject on Energy.
Third up was John. A very entertaining speech on the history of the Mercedes Benz.
After the speeches and a quick break we then had the evaluations. These evaluations were delivered by Becky Piper, Minjie and Atma. All very thorough which gave the speakers excellent feedback.
Daniel the General Evaluator evaluated the Evaluators and the meeting as a whole. He made a very good point about putting more enthusiasm into the applause when welcoming a speaker or anyone that comes up to the stage. Dan the man made his voice heard because afterwards the following applause had volume and festival whistles.
The last part of the meeting were the Awards.
Alex delivered a great speech and topics so he had two awards to take home.

John taking best humour.
[Paul took General Evaluators award for his début night as Toastmaster of the Evening[
A lovely evening held by all. My one recommendation is to not allow Becky to draw the table layout on the white board but apart from that, it was a great meeting!
Thanks to all. Paul
[Editing and social media pitch Daniel 30/9/2014]
[Well done Alex for Sweeping Best Speaker and Best Topics Speaker. Fab job Becky taking Best Evaluator. Fantastic improvised speech and Humour Award for Area Governor John. Paul did a great debut job as Toastmaster of the Evening and won the General Evaluators Award. Everything was about 'Being United' We were joined by four guests and returning guests. Daniel]
Like us on Facebook: https://www.facebook.com/cranfieldtoastmasters
Find us on Meetup: http://www.meetup.com/MK-Toastmasters-promoting-excellence-in-public-speaking/
Umbrellas it was for theme and topics. Fifteen in the house! That is a great number for the mid summer holiday season! There were three new guests, three returning guests, eight members, and a visiting Toastmaster. Top honours to Best Speaker (Josie), Best Evaluator (Craig), Best use of Humour (Julie), and best table topics speakers (Kelvin, Jo and Julie)
Sue opened the meeting by going round the table inviting people to tell us all about their favourite holiday destinations. The destination were wide ranging from backpacking Vietnam to the Bright lights of Las Vegas, from Canada to Australia, and from Hawaii to Atlantis. Within Europe we had two in Andalucía (Spain), one in Venice and another over in Istanbul.
The Toastmaster of the Evening (Daniel) adopted umbrellas as theme of the meeting. A choice inspired by Northampton's recent Umbrella festival and England's inclement August.
Prepared Speeches
We were fortunate to have three prepared speeches and thus a was on the cards.
Maxime, a visiting Toastmaster from Cranfield Speakers, gave his project nine Competent Communicator speech on challenging ourselves to leave our comfort zones. Happiness is one step outside the comfort zone. It is easy to become creatures of habit, but there is always a need for the thrill of novelty. Maxime's own life has seen him travel from France to Cranfield University to do his Master's degree, into Cranfield Speakers to obtain his Competent Communicator with 11 months (picking up the inaugural Award of Cranfield Toastmaster of the Year), and earlier in the month a 6000km road trip to Andalucía.
Derek gave his maiden icebreaker speech on his life told through his ties. Derek fished out his first tie –from the Royal Artillery to start his life story as a Meteorologist that lead on a career path to becoming a trainer via a tie from the Territorial Army's Tyneside Scottish. The inspiration for using Ties to tell a life story came the day before whilst Derek was attending to his laundry.
Joise gave her project three Competent Communicator speech entitled "A brief experience of mindfulness" Josie used grapes and chocolates to give us all a practical example of the heightened experience of the moment that is possible if take time to savour all the sensory details. Mindfulness is put forward as the wellbeing enhancing antidote to people over thinking the past or the future.
The Speech-evaluators were Daniel, Maxime, and Ganesh respectively.
Table Topics
Lynda Table Topics Master, picked up the Umbrellas theme and circulated various exotic umbrellas designs to set the context. The table topic speakers had to come forward and tell what they were thinking about when they invented, an as yet unseen, umbrella design.
Julie imagined the shower curtain umbrella that economically allowed its occupants to freshen up whilst they walked, clothed or otherwise.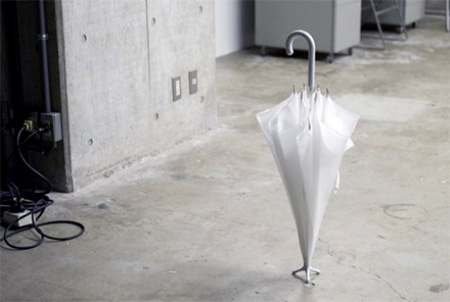 Reena imagined the ever practical self standing umbrella that saved on all the bother of finding an umbrella stand at home or whilst out visiting.
Jo was intrigued by this backpack umbrella that left one hands free to drink wine or as the picture stereo-typically suggests carry the shopping home. This example, in Black, is clearly marketed to men for Valentine's day inspiration. In a lad's case this brolly is also ideal for himself to mooch about with iPhone and a pint of beer in total dryness.
Kelvin dreamed up the upside down umbrella to help dogs stay dry and owners get wet unless they are fitted out with matching backpack umbrella.
The table topics session was evaluated by Craig.
The Crew
Lynda and Hamid kept time as the Time-keepers. Lynda is also Vice-President of Education. Sue is President and for this meeting was also General & Meeting Evaluator and Sergeant at Arms. Reena was the Grunt counter.
Umbrella Trivia
There are many synonyms of the word umbrella. Which of the following was popular towards the end of the 19th century?
Bumbershoot. Bumbershoot is an American term for umbrella that came into existence in the late 1890's. Brolly is a synonym for umbrella that is commonly used in countries such as Britain and Australia. Other synonyms of umbrella include gamp, sunshade, rainshade and parapluie.
What were umbrellas originally used to protect people from?
Sun. People have been using umbrellas for thousands of years to protect them from the sun and its heat and only a few hundred years for rain protection.
In Ancient Greece, umbrellas were a fashion accessory used only by men.
False. Umbrellas were first used by women in Ancient Greece in the 5th century BC. The men did not use them as they were not considered to be manly enough. The tradition of Greek women with umbrellas continued for thousands of years.
In Egyptian mythology what was thought to be the underbelly of a god that stretched from side to the other like an umbrella?
Sky. Ancient Egyptians believed the sky was the underbelly of a god and looked like a giant umbrella. This was why Pharaohs and other notable people were often seen under the shade of an umbrella.
In the 1400s sailors from Portugal that were destined for the East Indies carried an umbrella over their captain's head when they landed on a new island. Why did they do this?
To show his authority. Like many cultures, the Portuguese also saw the umbrella as a sign of authority and status. The same ships also carried umbrellas to offer as gifts to the native royals that they encountered on these islands.
John Hanway was the first person to introduce an umbrella to England. What was the main reason the English coachmen abused him when they saw him pass by?
They feared the umbrella would affect their business. John Hanway bought the first umbrella to England from Portugal in the 17th century. He had the coachmen worried that would lose business and they often abused him.
In the 1700s umbrellas were in regular production in Britain. What material was most often used for the ribs of the umbrellas?
Whalebone. That's right, they chose to use whalebone. Whalebone is the structure in the mouths of whales that the animals use to filter out the small food such as krill from large mouthfuls of water. The whalebone was used because it offered both strength and flexibility.
Gosselin of Amiens is credited with inventing what type of umbrella?
Fold-up umbrella. The fold-up umbrella has been around since the 1750s and the original model comprised of four steel rods and was designed to fit inside pockets.
Some British soldiers took umbrellas with them into the battles of the Napoleonic wars.
True. The Napoleonic Wars took place in the early 1800s. Umbrellas were carried by some soldiers until the British military decided that they were not a fitting image for fighting soldiers. Soldiers from other countries including America also took umbrellas to some wars such as the Indian wars.
Brolliology is the study of umbrellas.
True. Brolliologists usually study the origin and history of umbrellas. They can not however, agree upon where the umbrella originated as there is evidence that they have existed for thousands of years in civilisations such as the Ancient Greeks, Romans and Egyptians.
Source: http://www.funtrivia.com/en/subtopics/Things-You-Never-Knew-About-Umbrellas-329537.html
Just a quick summary of the forthcoming autumn contest dates around Area 44.
| | | |
| --- | --- | --- |
| Dates for Diaries | Event | Location/Notes |
| Wednesday, September 3 | Cranfield Speakers' Humorous Speech and Table Topics Contest | 6:15pm at the Cranfield Students' Association (CSA) lounge www.mycsa.org.uk. NB Also the farewell party for our MSc leavers. Contact cranfieldtm@gmail.com |
| Thursday, September 11 | Bedford Speakers' Humorous speech and topics contest | 7:15pm Fox & Hounds, 178 Goldington Road, Bedford, MK40 3EB |
| Thursday, September 18 | North Bucks Speakers' Humorous speech and topics contest | 7:15pm at The Well at Willen. thewellatwillen.org.uk For details contact: mktoastmasters@gmail.com |
| Monday, September 22 | Eldergate Speakers' Humorous speech and topics contest | 6:30pm at the MK National Badminton Centre www.nbc.uk.com. Optional follow on drinks and meal at Slug and Lettuce pub. Contact dalejohn@aol.com |
| Saturday, September 27 | Area 44 Humorous Speech and Table Topics Contest | Cranfield Management Research Institute (CMRI), Cranfield Campus www.cranfield.ac.uk. Contact cranfieldtm@gmail.com |
| Saturday, October 11 | Division G Humorous Speech and Table Topics Contest | The Huntingdon Golf Course www.cgcc.co.uk |
| Friday, November 7 to Sunday, November 9 | District 71 Conference (Humorous Speech & Table Topics Contest final round) | Belfast www.titanicconference.com |
Northampton Speakers are still a prospective club and will not host a contest this time.
Prepared by Daniel
Deep into the holiday season we were delighted to see two new guests, three returning guests, and seven members virtually taking every seat in the boardroom at 53 Billing Road.
Josie débuted as Evaluator and promptly take the award for the best evaluator! Well done!
First time guest Julie storms in with a joint share of best Table Topics speaker with Derek and goes on to get best use of Humour as well as the General Evaluators award. Brilliant simple brilliant Julie and well done Derek as well!
Sue opened the meeting with by asking everyone to introduce themselves and comment on summer festival that hey would love to attend. We leaned a lot about everyone ranging from music, to dance and from food to farming, etc. The word of the day was chosen a festive or festival.
Speeches
1) Izzy delivered her Icebreaker entitled "fears", such as the fear of public speaking and explored her fear of spiders.
Competent Communication Manual #1 – The Ice Breaker(4:00-6:00 min)
Speak before an audience; Use existing speaking skills; Introduce self to fellow club members.
Izzy has a propensity to do the crazy lady escape the spider dance if one of the wee beasties gets remotely close. As a mathematics trained scientist she graphed her fear against leg count and concluded that eight legs was the worst of all invertebrates by a significant margin. Lovely hand drawn visual aids showing an artistic flair inherited from her mother.
Josie evaluated Izzy and picked out the great content and story and then recommended that Izzy develop her delivery to include more use of the stage area and body language.
2) Lynda came to the recue, on the spur of the moment, with a speech entitled "Eek" based on the Competent Communicator manual project 5 "Your body speaks". 
Competent Communication Manual #5 – Your Body Speaks(5:00-7:00 min)
Use stance, movement, gestures, facial expressions, and eye contact to express the message and achieve the speech's purpose; Make body language smooth and natural; Focus on methods of delivery as well as speech content.
Lynda described how one drizzly day in the dark predawn stillness she heard a sudden demonic screeching. Jumping to the conclusion that her Guinea pigs were under attack she leaped out of bed in total darkness and made her way out across the cold and sodden lawn. All was well, but Lynda was as wet as a drowned rat with her pyjamas doing justice to any wet t-shirt contest. Making her way back towards her front door she was horrified to see looming out of the darkness the silhouette of a strange man standing inside the open door of her home. In an instant the stranger spotted her and both screamed in shock and fled. It transpired that it was the milkman on his rounds and he was startled to find the house wide open and dark and he ventured over the threshold to see if anyone needed help.
Derek bravely came forward as a debut evaluator and did very well picking out a lot of strengths and made several intelligent recommendations.
Table Topics
Ganesh was débuting as Table Topics master and adopted the approach of providing a series of slightly obscure words and inviting speakers to come forth an hazard a definition for each word
Adumbrate –Sue described her overshadowing festival –fairy light enhanced -shelter to prevent excess sunburn
Hackneyed –Derek described the well hackneyed banter of hackney cab drivers
Malediction –Kodi described how any of his addictions always seemed to be bad for him and thus maledictions (and thus presumably the search goes on for a good a one, i.e a benediction?)
Pugnacious –Lynda described how her son had managed to turn her car into a pungent pugnacious mobile when he did the oil change…eventually she narrowed it down to him leaving his hamburger under the bonnet on a very hot pipe.
Parsimony –Julie developed a definition from the old French of an elegant way of describing a woman who chooses not to marry.
Vicarious – Reena spoke of the vicarious vicars who are privy to all the best gossip in town during the confessional.
Daniel evaluated the session and commended the way Ganesh was able to creatively manage the time and extend the session to include more people and compensate for the late loss of one of the planned speeches. In time, as Ganesh gets more familiar with the role, it will be easier to set up a good introduction and then summarise before asking for votes. It was also a tough test of impromptu speaking and Ganesh handled it well allowing people to say NO, but in the longer term other approaches will make sessions more accessible to novices. One recommended approach is the familiar set of questions…If you could go to any point in time when would that be and why? If you ruled the world what would you do?…If you had a super power of you choice what would it be and why?
The Motley Crew
Sue starred as President and Toastmaster of the Evening. Lynda was General & Meeting Evaluator and minded us all to keep tidy handovers with hand shakes. Daniel doubled up as time keeper and Kodi counted the grunts.
Next Meeting
18th August 14 at 19:15 at 53 Billing Road, Northampton
Members take your roles: http://northampton.toastmasterclub.org
Club website: http://www.northamptonspeakers.org.uk/
Like us on Facebook: https://www.facebook.com/groups/northamptonspeakers
Find us on Meetup: http://www.meetup.com/MK-Toastmasters-promoting-excellence-in-public-speaking/events/197779522/
Note the club aims to be present with a stall at the Umbrella Fair 16 & 17 August at Northampton racecourse (http://www.umbrellafair.org.uk/). All welcome to volunteer to man the stand. Liaise with Sue Savage please.
Every seat at the boardroom table was taken by six members, three new guests, and three returning guests. We enjoyed two prepared speeches from Dave and Sue. New member Josie led an inspired table topics session that drew eight topics speakers to the floor. Issie and Dereck shared the honours for best topics speakers and Dave took best evaluator for doing a fantastic job evaluating all eight topics speakers and Josie the table-topics master. To round out the night Sue, Kelvin, Daniel and Josie tied for best use of humour.
Prepared Speeches
Dave's gave us an after dinner talk, the fifth project from the advanced manual "The Entertaining Speaker", entitled "Time will tell". The talk was a humorous tour of his experience of Toastmasters venues with with flawed character overlaid with his experiences of being involved with six club start-up attempts. Some venues needed extra seating up the isles of the library, others had singing in the background, some were cold and mouldy, and yet others prone to impossible car parking if the local hall had an event on.
Sue's prepared speech on "How to win at Meetup" was a project 2 speech from the Competent Communicator manual. Sue laid out a systematic approach to optimising the use of the Meetup website by Toastmasters' clubs. Going through the What, Why, How and When that works. Of those present at the Meeting over half had heard of Northampton Speakers through Meetup. Since the meeting others have signed up at Meetup.
Table Topics
Josie developed an inspired theme around colours, drawing and mood. Drawing and colouring form part of her earliest memories.
Kelvin talked about childhood memories and boxing with his relatively young father and the need to catch-up on some more moments like that.
Daniel talked about why some teachers are grumpy –are they kill joy disciplinarians? In any case they are far better off pensioned off as soon as the pension system can be fixed.
Lynda spoke about art and what is art and that it is what you want it to be.
Issie mused about doing something she loved, which might be learning and contrasted that to her up coming consultancy career which will surely offer a heady ascent up the salary scale.
Jacky, when asked about favourite clothing, told of her love for 1960s vintage clothing that she either makes or sources online or in specialist shops.
Reena gave us her views on colours and moods around the house from hot energetic red and orange colours that might not be restful to calmer blues and greens.
Dereck was given brands and colours and plumped for VW, his employers brand, and the colour for him in a car was the first available –silver.
Kodi spoke of yellow ducklings and sky blues as great fun calming mood colours to have around children.
Roles
Sue was President, General Evaluator, Meeting Evaluator, and Sergeant at arms. Lynda was Vice president of Education. and Toastmaster. Dave was Topics Evaluator with Daniel and Joydeep being the Speech Evaluators. Daniel and Joydeep were also the timekeepers. Kelvin took on the grunt counter role.
Next meeting 4th August at 53 Billing Road, Northampton
See this meeting written up as a Prezi! http://prezi.com/rddpikcp6ofz/ganesha-gave-us-his-icebreaker-speech-he-told-us-of-the-ext/
A lively highly functional night. We had six members, four welcome guests, the Area 44 Governor, and a fellow visiting Toastmaster. We had two great icebreakers from new members Josie and Ganesha. Joise went on to earn the smooth talker award. The general evaluator's award went to first time guest Sara for sheer bravery in attempting her first table topic. With three speeches we were able to hold a contest that Isaiah won. Area Governor John took best evaluator and first time Guest Isabella took best table topics speech.
Sue lead with the roles of President, Sergeant-at-arms, Toastmaster-of-the-Evening and speech evaluator. Lynda was the general, meeting and topics evaluator. The other speech evaluators were John and Dave. Of the remaining roles Isaiah was the grunt counter, Daniel the table-topics master, and Josie made her début as the time keeper.
The new Area 44 Governor, John, paid us a visit. Fortunately, we were not overawed as his two immediate predecessors, Lynda and Sue, are members of Northampton Speakers. He gave heartening feed back that prospective club Northampton Speakers was not just a few people meeting but a fully function club providing the genuine Toastmasters experience to its members and guests.
12 Cranfield Speakers attended last night's 'Mountaineering' themed meeting and lots of discoveries were made through our 4 sporty table topics, 4 prepared speeches, evaluations and supporting roles! Slides follow…
Becky (acting as Toastmaster of the Evening)
Remember – 3 Top Tips for Mountaineering…
TRAIN: Use the stairs not the lift
PLAN: Your route & wear appropriate footwear
PREPARE: Food, water, mobile phone, first aid kit & shelter
From Becky,
Toastmaster of the Evening
Slides from Maxime's talk
Slides from Allison's talk
Slides from Amaia's talk
Assembled by Daniel Sandars 14th July 2014
Cranfield Speakers 25th June Meeting Write-up
Another good evening at Cranfield speakers club, or should that be on board "The Good Ship – Toastmasters". Maria was the TME or Captain for the evening, complete with her Captain's hat, celebrating "25th June – World Seafaring Day" by setting a nautical theme for the night of "Ahoy there !". "Ahoy" was also chosen as word of the day by Rose Marie, which most speakers mentioned a couple of times.
Thirteen people attended (good, considering the full fixture list for World Cup that night), plus one welcome special guest, Allison's daughter, who probably the youngest guest that has attended a Cranfield Speakers meeting.
Maria's ship's officers for the evening were; Stephen debuting as timekeeper, Rose Marie as grammarian, Evangeline as "Ah counter", Becky as General Evaluator, Sunday as Sergeant-at-arms, Maxime as Tabletopics master and Daniel as tabletopics evaluator. Allison was the jokemaster and started the evening with a funny tale about a woman, her makeup, and a visitation of angels.
Becky as VP education gave us a quick recap on importance getting involved in and continuing with the competent communicator and competent leader programs using an interesting prop that her son Dylan had designed and decorated, the green Guitar-Scooter, with the take home point being don't let the wheels come off.
Maxime's carried on the nautical theme for the Table topics session, taking us on a adventurous voyage on the high seas with inspirational slides. First up was Jim who had to procure us a ship, which he did, whilst he was "three sheets to the wind", gammy leg and all. Second was Rose Marie, who was our cartographer and had to decide our destination. On consulting a crystal ball, the sails of our ship were set for Manhattan in New York. Next was Paul J, who gave us a lot of laughs negotiating with the pirates we came across, to let us, a small defenceless ship through unharmed as we had nothing worth pinching. We finally reached our destination and found a treasure chest beyond our wildest dreams. Last up was Maria, who had to tell us about the treasure and what we would do with it. She decided to divide it fairly, have a party, then sail back; but not before buying some cannons and cannon balls, to defend us from the pirates on the way home.
There were only two prepared speeches, as two members weren't able to make it at the last minute. First was Evangeline with her ice-breaker speech, entitled Ev Sucre. She gave us a tour of her personal history accompanied by slides; telling us about her family, her schooling, and what she is doing at Cranfield University. She then went on to tell us about her favourite things and hobbies, so we feel that we definitely know her a bit better now. John gave her evaluation.
Next was Allison, who was delivering his sixth speech, evaluated by Maxime; which concentrated on giving us plenty of vocal variety. Allison eloquently described his great joy about finding out from the ultrasound scan after waiting many years (after the birth of his son) that he was finally going to have a daughter. He brought us up to date with how scans were now able to provide more sophisticated 3-D images of babies in the womb, and linking this to developments with 3-D printing, that it would now be feasible, to print a 3D replica of your child to be in the womb. He would have loved for this to been available when his wife was having their daughter, so that he could anticipate her arrival even more.
So many common phrases in the English language can be traced back to nautical origins, due to our strong sailing and naval history. Maria set a challenge for the evening, to see who could give the best example of a common nautical phrase still in use today, and who could use the most nautical expressions during the evening. She got the ball rolling by explaining the origins of phrases such as; "No room to swing a cat", "Flying colours", "Posh" and "Cold enough to freeze the balls off a brass monkey".
The AWARDS of the evening went to; Paul J for best table topics speaker, John for best evaluator, Paul for best use of humour and John for smooth talker. No award was given for best speaker, as there were only two speeches. The evening's challenge winners were Jim won the best example of a nautical phrase prize for his depiction of three sheets to the wind, and John for mentioning the most sailing and nautical terms during the evening.
Next meeting will be on 9th July 2014. All welcome.
Prepared by Maria.