Umbrellas it was for theme and topics. Fifteen in the house! That is a great number for the mid summer holiday season! There were three new guests, three returning guests, eight members, and a visiting Toastmaster. Top honours to Best Speaker (Josie), Best Evaluator (Craig), Best use of Humour (Julie), and best table topics speakers (Kelvin, Jo and Julie)
Sue opened the meeting by going round the table inviting people to tell us all about their favourite holiday destinations. The destination were wide ranging from backpacking Vietnam to the Bright lights of Las Vegas, from Canada to Australia, and from Hawaii to Atlantis. Within Europe we had two in Andalucía (Spain), one in Venice and another over in Istanbul.
The Toastmaster of the Evening (Daniel) adopted umbrellas as theme of the meeting. A choice inspired by Northampton's recent Umbrella festival and England's inclement August.
Prepared Speeches
We were fortunate to have three prepared speeches and thus a was on the cards.
Maxime, a visiting Toastmaster from Cranfield Speakers, gave his project nine Competent Communicator speech on challenging ourselves to leave our comfort zones. Happiness is one step outside the comfort zone. It is easy to become creatures of habit, but there is always a need for the thrill of novelty. Maxime's own life has seen him travel from France to Cranfield University to do his Master's degree, into Cranfield Speakers to obtain his Competent Communicator with 11 months (picking up the inaugural Award of Cranfield Toastmaster of the Year), and earlier in the month a 6000km road trip to Andalucía.
Derek gave his maiden icebreaker speech on his life told through his ties. Derek fished out his first tie –from the Royal Artillery to start his life story as a Meteorologist that lead on a career path to becoming a trainer via a tie from the Territorial Army's Tyneside Scottish. The inspiration for using Ties to tell a life story came the day before whilst Derek was attending to his laundry.
Joise gave her project three Competent Communicator speech entitled "A brief experience of mindfulness" Josie used grapes and chocolates to give us all a practical example of the heightened experience of the moment that is possible if take time to savour all the sensory details. Mindfulness is put forward as the wellbeing enhancing antidote to people over thinking the past or the future.
The Speech-evaluators were Daniel, Maxime, and Ganesh respectively.
Table Topics
Lynda Table Topics Master, picked up the Umbrellas theme and circulated various exotic umbrellas designs to set the context. The table topic speakers had to come forward and tell what they were thinking about when they invented, an as yet unseen, umbrella design.
Julie imagined the shower curtain umbrella that economically allowed its occupants to freshen up whilst they walked, clothed or otherwise.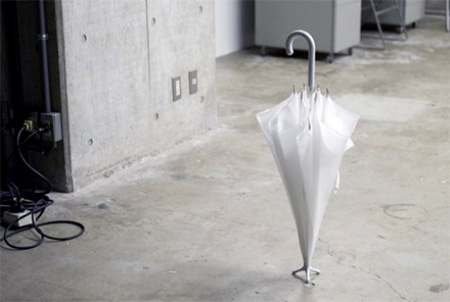 Reena imagined the ever practical self standing umbrella that saved on all the bother of finding an umbrella stand at home or whilst out visiting.
Jo was intrigued by this backpack umbrella that left one hands free to drink wine or as the picture stereo-typically suggests carry the shopping home. This example, in Black, is clearly marketed to men for Valentine's day inspiration. In a lad's case this brolly is also ideal for himself to mooch about with iPhone and a pint of beer in total dryness.
Kelvin dreamed up the upside down umbrella to help dogs stay dry and owners get wet unless they are fitted out with matching backpack umbrella.
The table topics session was evaluated by Craig.
The Crew
Lynda and Hamid kept time as the Time-keepers. Lynda is also Vice-President of Education. Sue is President and for this meeting was also General & Meeting Evaluator and Sergeant at Arms. Reena was the Grunt counter.
Umbrella Trivia
There are many synonyms of the word umbrella. Which of the following was popular towards the end of the 19th century?
Bumbershoot. Bumbershoot is an American term for umbrella that came into existence in the late 1890's. Brolly is a synonym for umbrella that is commonly used in countries such as Britain and Australia. Other synonyms of umbrella include gamp, sunshade, rainshade and parapluie.
What were umbrellas originally used to protect people from?
Sun. People have been using umbrellas for thousands of years to protect them from the sun and its heat and only a few hundred years for rain protection.
In Ancient Greece, umbrellas were a fashion accessory used only by men.
False. Umbrellas were first used by women in Ancient Greece in the 5th century BC. The men did not use them as they were not considered to be manly enough. The tradition of Greek women with umbrellas continued for thousands of years.
In Egyptian mythology what was thought to be the underbelly of a god that stretched from side to the other like an umbrella?
Sky. Ancient Egyptians believed the sky was the underbelly of a god and looked like a giant umbrella. This was why Pharaohs and other notable people were often seen under the shade of an umbrella.
In the 1400s sailors from Portugal that were destined for the East Indies carried an umbrella over their captain's head when they landed on a new island. Why did they do this?
To show his authority. Like many cultures, the Portuguese also saw the umbrella as a sign of authority and status. The same ships also carried umbrellas to offer as gifts to the native royals that they encountered on these islands.
John Hanway was the first person to introduce an umbrella to England. What was the main reason the English coachmen abused him when they saw him pass by?
They feared the umbrella would affect their business. John Hanway bought the first umbrella to England from Portugal in the 17th century. He had the coachmen worried that would lose business and they often abused him.
In the 1700s umbrellas were in regular production in Britain. What material was most often used for the ribs of the umbrellas?
Whalebone. That's right, they chose to use whalebone. Whalebone is the structure in the mouths of whales that the animals use to filter out the small food such as krill from large mouthfuls of water. The whalebone was used because it offered both strength and flexibility.
Gosselin of Amiens is credited with inventing what type of umbrella?
Fold-up umbrella. The fold-up umbrella has been around since the 1750s and the original model comprised of four steel rods and was designed to fit inside pockets.
Some British soldiers took umbrellas with them into the battles of the Napoleonic wars.
True. The Napoleonic Wars took place in the early 1800s. Umbrellas were carried by some soldiers until the British military decided that they were not a fitting image for fighting soldiers. Soldiers from other countries including America also took umbrellas to some wars such as the Indian wars.
Brolliology is the study of umbrellas.
True. Brolliologists usually study the origin and history of umbrellas. They can not however, agree upon where the umbrella originated as there is evidence that they have existed for thousands of years in civilisations such as the Ancient Greeks, Romans and Egyptians.
Source: http://www.funtrivia.com/en/subtopics/Things-You-Never-Knew-About-Umbrellas-329537.html